Staff
Pastor Tim Goodman & wife Linda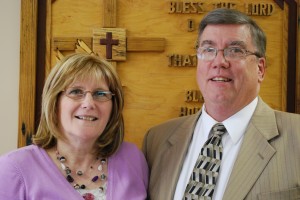 It is my pleasure, and has been since 1993, to serve as Pastor to the Faith Bible Baptist Church.  We are, without shame or hesitation, a Fundamental, Independent, Bible-Believing, Christ-Centered, Historically Baptist Church. Our services are traditional and conservative in their approach to worship.  It has been, and still is, our one great purpose to honor and glorify our Great God and Saviour the Lord, Jesus Christ.
My wife Linda, and I have been privileged to be permitted to serve the Lord in full time service since 1982. It has been my great joy to spend and be spent here in Toledo serving as Pastor to the Faith Bible Baptist Church ever since.  In 2008 we asked our youngest son Thomas and his wife Amanda Goodman to serve as Associate Pastor, and to our great joy he agreed. We, pray that if you are checking out this website in search for a church, that you will consider visiting us here at Faith Bible Baptist Church. Please be sure to check out our Church Constitution and By-Laws as well as the monthly publication of the Trumpet. May the Lord bless in your search for a church.
In His Service & Loving Him Still,
Pastor Timothy F. Goodman
Proverbs 12:2 "A good man obtaineth favour of the LORD…
Associate Pastor Tom Goodman & Family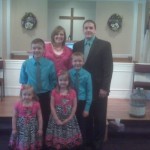 I grew up in a Pastor's home in rural Illinois since 1982 when my dad graduated Bible college.  I had made a profession of faith as a young child, but was eight years old when I trusted in Jesus Christ as my Savior.  We went to church every Sunday morning and night, Wednesday nights and any special meetings at our church or any church within twenty miles.  As a Pastor's son everyone assumed that I was growing in the Lord, but I was not.  I was not reading my Bible and had no prayer life whatsoever.  As a teenager I became very rebellious and began taking part in many secret sins that my parents were not aware of.
We moved to Ohio in 1993 when I was a sophomore in high school.  This move had a good impact on me because it got me away from some bad influences back home.  I enjoyed church for about a year.  I then made some bad friends and it wasn't long before I was on the wrong track again.  Most of my young adult life was regrettably lived for the devil and this sinful world.  Living on my own at the age of eighteen I had no one to hold me responsible for my actions.  My parents were always there to pray for me and to love me.  They never supported me or the wicked life that I had chosen and often took time to try to reprove me.  I always felt loved and welcomed but fellowship was definitely hindered.
When Amanda and I were pregnant with our first child and married, I rededicated my life as a Christian.  I knew that I needed God in my life to be the husband and father that my wife and son deserved.  After much prayer and conviction I surrendered to the call to preach in August of 2003 at the Fresh Oil Baptist Campmeeting in Oregon, OH.  Amanda accepted Christ as her Savior in 2005 after thinking she was saved because she repeated a prayer as a teenager but never repented of her sin or trusted in Christ to save her.  I thank God everyday for the godly wife and mother that He has given our family.
I began preaching at a nursing home and homeless shelter in the Toledo area and filling pulpit for my dad and a Pastor friend, Bro. David Stogsdill whenever needed.  In June of 2008 I was asked to be the Associate Pastor to my dad at our church and have been glad to serve here at FBBC.  I have been privileged to meet and preach in meetings with some of God's choicest servants this side of Heaven and thank God for those who have labored before me to keep the faith.
Amanda and I now have been blessed with four beautiful children; Calvin (4/22/02), Seth (09/12/03), Savannah (10/17/07) & Calli (08/11/09).  Amanda and I will celebrate our 8th anniversary this year. (11/03/01)  God has been good to the Goodman family and I thank Him for it each day.
It is our prayer for you that you have a personal relationship with God through His Son Jesus Christ.  Also we hope that you find a good sound Biblical church home to serve the Lord and walk the Christian walk until His return.  If there is anything that we help you with or answer any questions that you may have, please contact us.
Bro. Tom Goodman
Proverbs 25:4